Welcome to CoreFocused Pilates Personal Training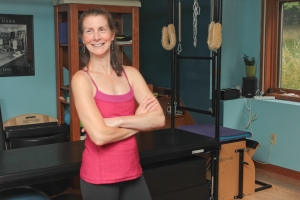 Welcome to CoreFocused, LLC. Individualized Pilates instruction, Personal and Small Group Training in the picturesque setting of Hollis, New Hampshire.
Enjoy the mind & body focus of STOTT PILATES® while reclaiming the body of your youth.
"In 10 sessions, you will feel a difference. In 20 sessions, you will see a difference. In 30 sessions, you will have a whole new body." – Joseph H. Pilates
A few of the many benefits of  Pilates exercise method:  Improve Stability and Flexibility.  Learn to use local & global stabilizer muscles that provide joint stability and have feedback loops.  Rebalance muscle groups, improve posture, improve ease of movement, prevent injury. Build a strong core and work from the inside to the outside to increase power & vitality. Virtual Zoom Pilates instruction is available on request by appointment. Zoom Pilates lessons are great for maintaining one's level of fitness and positive state of mind whether it is during a pandemic, snowstorm, while traveling or due to a relocation.
Feel Good. Look Good. Be Strong. Shine.